Ah, Watch Dogs.
If you've been watching video game review sites other then mine, you more then likely saw trailers similar to the one above. If you have, you may also be aware that Watch Dogs was scheduled originally for last Christmas but was delayed up until its current release on May 27th this year. That may be a good thing, since it might mean that Ubisoft is going the extra mile to polish off bugs and nuances in the game before its finished. Then again, it could also be due to the fact that they found something that broke the game and they needed a deadline push to get it sorted out. That would imply the original beta was a horrid abomination and we will get to see the stitches popping out right before summer. Or worse yet, someone with a lot of weight to throw around at Ubisoft wanted to make some "last minute changes" and Watch Dogs was pushed back to accommodate his or her wishes. This is the worst case scenario, since it implies that instead of fixing the game, they needed more time to ruin it. To extend the previous analogy, it would be like taking another six months to let the lead doctor jam in some weird and unworkable contraption after the game's open heart surgery. Take it from a game dev; stupid ideas that don't work kill a game faster then anything else. That's why companies like EA have such a good reputation (word to the wise; they don't).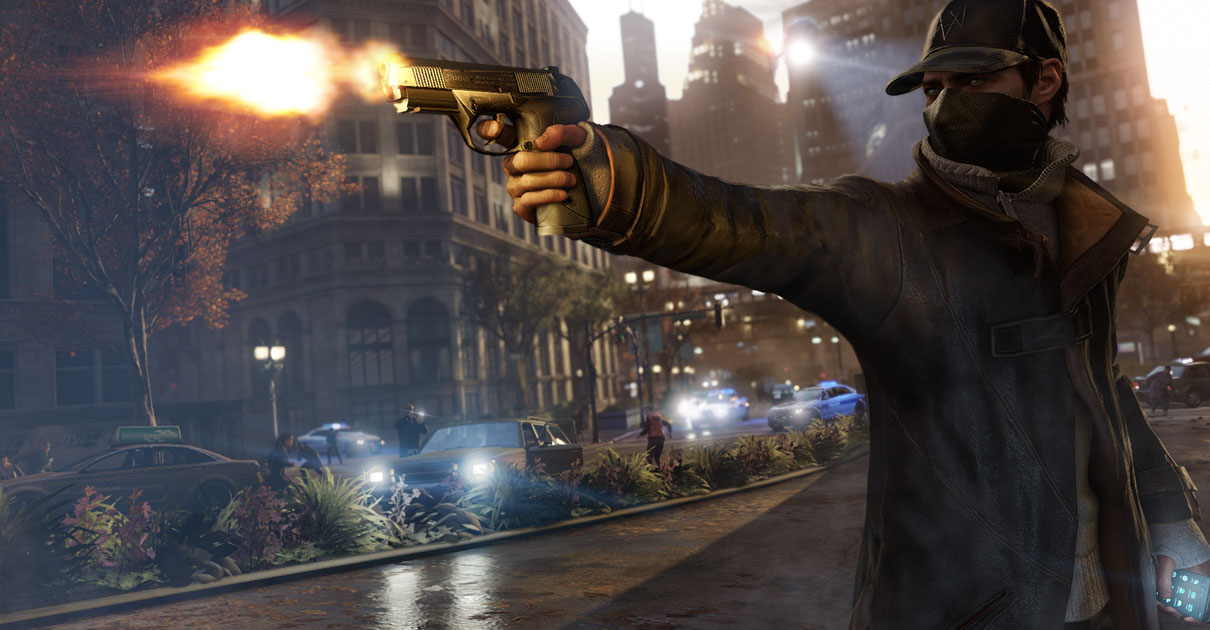 Cynicism aside, Watch Dogs does look like an interesting game, despite flaws already popping up. Fun fact; unlike most game journalists who salivate over the upcoming game trailers and fall for their publisher's PR campaigns like a Halo game on a stick, I tend to try and find flaws first and then save any potential butt kissing that's left for when the game is already out. That way if a game really is good, it's a pleasant surprise, and if it's bad, no one's disappointed. As much as I want a press past for next years E3, I would be dishonest to say they didn't cater to this kind of pandering that most game reviewers fall into, and only greats like "Yahtzee" from the Escapist seem to have the guts to go against it. I like to think I provide a more balanced view by putting my Cynicism toward the hype and my praise toward the game. After all, which matters more? The Watch Dogs promo pieces, or the quality of the game itself? I beg to differ.
Instead of bombarding you with excitement, fanboy drool, and biased favoritism, I will instead give you a look at two other trailers straight from the Watch Dogs youtube channel that depict the game itself in action, followed quickly by my analysis.
If you can describe to me where you've seen this kind of talk before, kudos to your game rep. If not, be warned that this is the same kind of push trailer released for:
Red Dead Redemption
LA Noir
Assassin's Creed 3
Fallout 3
Skyrim
and Grand Theft Auto from 3 all the way up to 5 and beyond
The only game on the list actually made by Ubisoft is, at least from that list, the worst. People constantly criticize the poor character quality of its star lead, the gameplay was more then a little stilted, and the "Open World" concept didn't venture very far AT ALL. These are the guys making Watch Dogs. Yikes. These trailers are harder to find then I first thought, and in the interest of being topical, I will post them in a later Update of this post.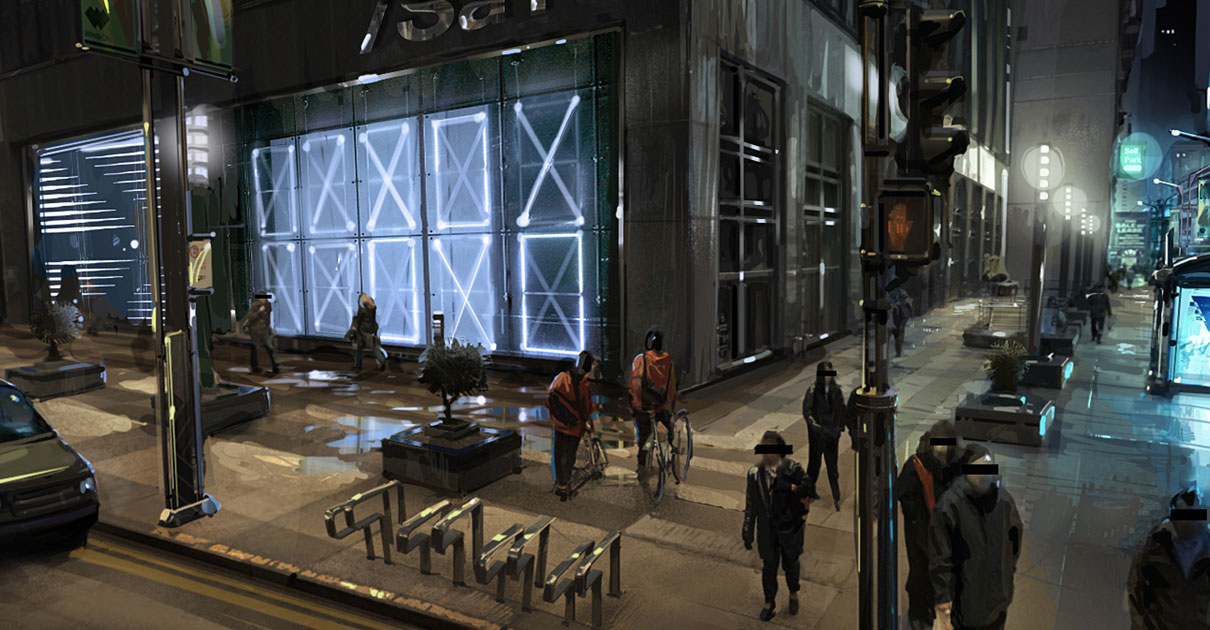 Moving on; While the "Open World" angle has easily become the new cliche', One thing I will give Ubisoft credit for is approaching the concept differently-at least in a purely mechanical game design capacity. Instead of merely stealing cars and blowing the police away in between network hacks, you actually play in a dynamic environment that has as much people traffic as it does for vehicles. What's more is that everyone seems to have a computer and/or a smart phone, and you can hack their Wi-Fi space to actively profile them, track them, steal from them, or rescue them. This is really interesting, since it makes the world a lot more detailed, and has the capacity to tell not just one story, but tens of thousands. It tends to oversimplify the actual act of hacking by basically giving you access to CTOS, which is basically the chief surveillance program of "the man". In short, you become a surrogate big brother every time you tap their systems.
The Way you do tap into their systems is obviously inaccurate, and the dev team missed an opportunity to put a great character from real life into their story, but to get into that is an article in and of itself. To see what I mean directly, here is an extend gameplay trailer that might illustrate a few of my points.
To be clear, the idea of government surveillance and loss of privacy to digital distribution is an awesome high concept. It is the zeitgeist of our times, the thing that is most controversial today in the decades following 9/11. Watch Dogs seems to be grasping feverishly at this concept, making you both a vigilante taking on the system, and a hacker who can be a surrogate big brother unto himself. The stories that come from simply peering into other peoples lives is staggering, and no doubt players will spend just as much time exploring the inside of peoples homes as they will the streets of near-future Chicago.
Thing that worries me thought is that not only would you need a high number of writers to make the narrative of all the NPCs work, but a high number of good writers. Writers who know their craft almost as much as the medium they are writing for. Unless you work for a great company like 2K games or Naughty Dog, both of which have games that are legends in Video Game Narration, you are likely to see a very limited number of writing talent in your studio, and most of them will be hired from outside mediums. While Ubisoft has a fairly good history of making interesting backstories and decent enough writing, as far as character writing goes, I will remind you again that they invented Connor. People hate Conner, mostly because he's as bland and as boring as you can get. If you watched the trailer I started this article with, you'll see what amounts to a less moral, much more trigger happy Batman. Batman is a good character, but they seem to be cutting out most of his redeeming qualities and to be frank, his character archetype has been done TO DEATH! If you think I'm wrong, name ten video games that have a vigilante as a main character. Now name ten movie characters that are also vigilantes, and also dark and brooding. Case closed. The fact that they already stuck with such an overused and increasingly unredeemable character makes it hard to care about him. Plus, if they botched the center piece of their story that badly, I shutter to think what would happen when they need to write voice acting or text messages for the 10,000+ minor characters whose privacy we will be invading. If I see more then 100 lols and ttyls with little to no context in between, I wouldn't be surprised.
To end this first look with a silver lining, I will merely list a number of things it did right. Very right. I look forward to reviewing this game intensely, and will either skewer it for what it's worth, or be pleasantly surprised. I hope you are too.
List of Good things
Excellent Cinematography. That scene with the shopkeep sounding the alarm over you had the perfect camera angle. Lets hope they keep up the good work
Awesome Graphics-Not surprising, since it has such a high budget and powerful platforms.
Cool reactionary  karma system- having the consequences affect your actions as directly as they did was something that could only be carefully planned.
Again, awesome high concept-If indie devs don't follow the same rabbit hole these guys did, I will be dissappointed.
Intuitive hacking system-this is almost a flaw, since it might not challenge some gamers enough, but its perfect for the casual market
Good exploration of choice-I can be a gung ho shooter or an unseen hacker. Awesome
Interesting upgrade possibilities-I think this will appeal to me more then anyone, since I'm a sucker for RPG stats. Might seem too "skinner box" for some.
And Finally, the idea of "tapping" into someone elses game online to hack them is a stroke of genius. That system alone is worth the 70 bucks you will have to drop for this game. I guess online multiplayer is the new playground for AAA games
That't it for now. I will be updating this post yet again when the Active Critique, review, and adjoining articles are done. Look for the links below during the next two months.
---